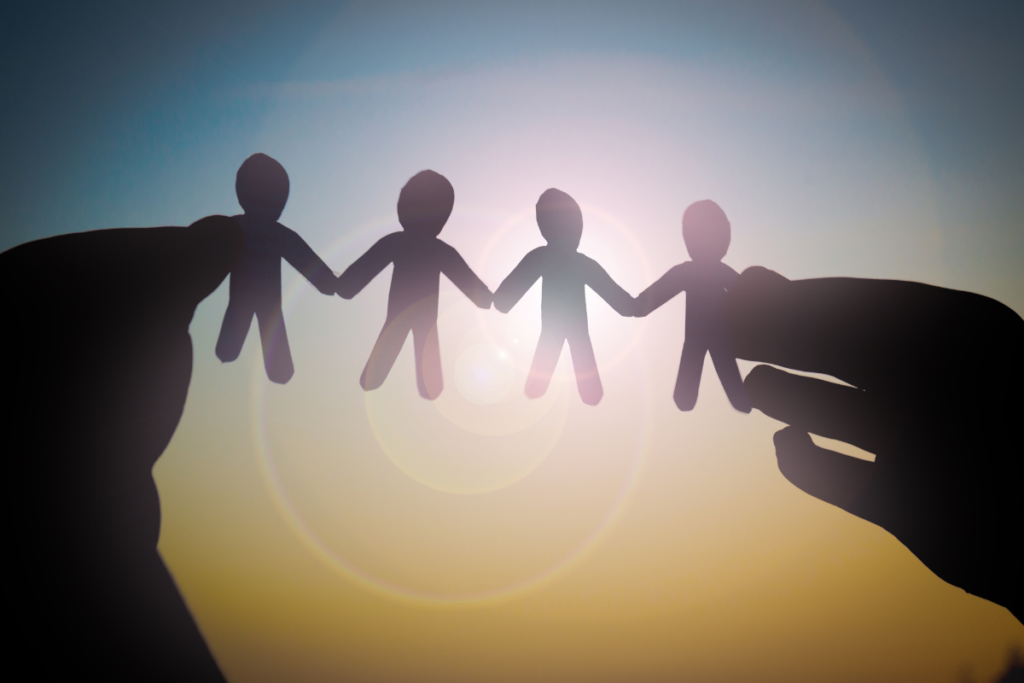 How small businesses can drive sustainable impact. Part 2: Community
We wrote last month about the climate crisis and how it's difficult to know where to start in fixing the problem.
For many businesses, community is at the opposite end of the scale. Most organisations already run support schemes for their employees or help local charities.
This stuff has been going on for years. Building it into a joined-up programme can help your organisation to become more sustainable.
Who's in your business community?
If you think about this in the broadest sense your community is every group who has an interest in who you are and what you do. Namely your:
Employees
Suppliers
Clients/customers
Shareholders and owners
Local community and worthy causes
Many organisations encouraged teams to do charitable work under the well-established idea of Corporate Social Responsibility (CSR). That's ticking the employee and local community boxes.
Plenty of schools have been painted and vegetable patches dug in the name of CSR. And if you're just starting out this is a good place to begin.
But to build on this, ask yourself how you could partner with each of these five groups and what benefits it might bring to you both. Let's explore this now.
Employees
Your employees are your most obvious community and for years organisations have been seeking out ways to get the best out of their team.
If anything this has ramped up in recent years with COVID lockdowns forcing businesses to think about flexible working and new ways of engaging people.
Now the cost of living crisis has encouraged organisations to look at ways of helping employees through the worst of the crisis.
The employer – employee relationship is not the transactional thing it used to be.
If you already think of your team as an employee community then they will be thrilled to be involved in helping you connect with other stakeholders.
Suppliers
Approaches to suppliers vary widely. Some businesses are deeply engaged with them, working together to figure out innovative ways of developing products or services.
Others choose to keep suppliers at arm's length, using cool relationships as a way of bartering down prices.
If you want suppliers to be part of your business community then you'll be in the first of these two camps.
We wrote in Part 1 about using a carbon calculator to get a feel for the emissions your business creates. Chances are most of these emissions will come through your suppliers.
If you want to build a supplier community then building closer relationships with your suppliers is how you'll find new and efficient ways of tackling this sort of challenge.
What follows from this intent, of course, is where your suppliers are based. We follow the B Corp guideline that aims to source suppliers within 50 miles of HQ.
It's quite possible to solve a marketing problem by going on Fiverr and paying someone in the Philippines $25 to complete the job. But that's just a transaction and doesn't do anything for community.
You might pay more today if you hire someone locally, but in the long run you'll have a business owner you can go for a coffee with and introduce others too. That's how you build community.
Clients/customers
Looking the other way up your supply chain, you have choices about how you work with customers.
You could see them as a source of funds with a dollar sign perpetually hanging above their heads.
Or you might see them as people you can help. Asking probing questions to find out what they are trying to achieve – and then delivering solutions is what builds stronger long-term client relationships.
It's a helpful by-product that this approach is likely to get you bigger orders and better repeat rates!
Shareholders and owners
How you engage with shareholders is necessarily influenced by the type of business you are.
If you're a limited company with a long list of private shareholders you're unlikely to know who those individuals are, never mind want to meet up for a drinks party.
But if you have a small number of known shareholders or owners then their influence is vitally important.
Environmental, Social & Governance (ESG) goals are becoming increasingly important.
Matching your approach to Community with your shareholder expectations makes sure you have an authentic voice when you're talking with the other four groups.
Local community and worthy causes
Finally, but not least, there's the question of how you deal with your local community.
Actually, questions are raised now about those team days out painting local schools.
It's unlikely that painting is an expertise in your business and often the charity spends more time supervising your day out than is worth their time.
You're also focusing all your efforts on just one cause, when each of your employees will likely have one thing that's close to their heart.
For this reason it's becoming more common to give employees a day off for them to spend on their own cause.
You can add extra weight to your team's efforts by offering to double any charitable donations they collect.
This doesn't prevent you having a charitable mission that aligns with your company's purpose. An IT company might provide IT equipment or training to local schools.
Building sustainable business community
The real power comes when you pull together all these groups to make a serious difference.
If you can find the cause that unites your team, your suppliers and clients, and your shareholders, then you've struck gold.
You've struck gold because communities are self-supporting. Once you've got everyone heading in the same direction your biggest problem will be holding them back!
Whatever people say about our polarised society, at heart people like helping other people. New ideas and projects will emerge because you've unlocked the enthusiasm of community.